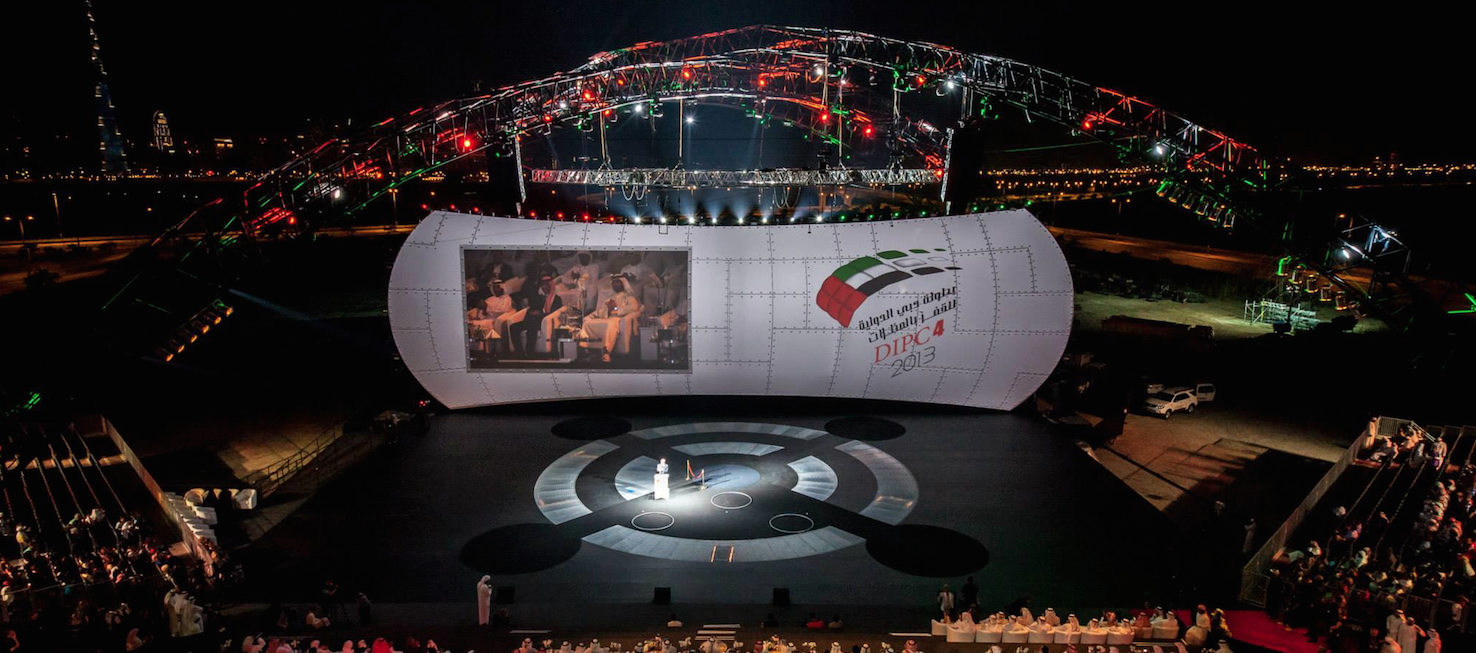 At the opening celebrations of the 4th Dubai International Parachuting Championships DIPC, produced by HQ Creative, Team Extreme used power bungees in an awesome display of aerial prowess.
The 4 artistes from TEAM EXTREME gave their unique performance beneath an enormous double arch with the backdrop of a huge video screen erected on the Meydan Racecourse grounds.
Members of the royal family, foreign dignitaries, VIPs, the DIPC parachuting crew and the thousands of other spectators applauded loudly in appreciation of a display so closely in line with the competition itself.
The show had to integrate seamlessly into the overall happening, which had its central focus on a video screen stretching 43 meters wide. Team Extreme's own TRACTOR system catapulted all 4 performers at once and in mere seconds from the ground to their starting positions. No ropes or other obstructions obscured the spectators' view of the video projection.
Aeroart is variable and can be staged either indoors or outdoors, with up to 6 performers.
DUBAI DIPC by HQ Creative and TEAM EXTREME

TEAM EXTREME fliegt mit AEROART über Dubai…
zur Eröffnungsfeier der 4. Dubai International Parachuting Championships DIPC präsentierte Team Extreme dem hochkarätigen Publikum eine spektakuläre Flugshow an Power Bungees.
Unter einer gewaltigen Doppelbogen Konstruktion und vor einem gigantischen Videoscreen auf dem Geländes des Meydan Racecourse zeigten die 4 Artisten von TEAM EXTREME ihre einzigartige Show.
4600 Zuschauer, darunter Mitglieder der königlichen Familie, Würdenträger aus dem Ausland, VIP's, die Crew der DIPC Fallschirmspringer und öffentliches Publikum, würdigten den zum Thema der Veranstaltung passenden Auftritt mit großem Applaus.
Die Show musste übergangslos in die gesamte Inszenierung integriert werden, dessen zentraler Fokus auf einer 43 Meter breiten Videowand lag. Das von Team Extreme entwickelte TRACTOR System katapultierte die 4 Artisten gleichzeitig und in sekundenschnelle vom Boden in die Startpositionen. Die Videoprojektion wurde somit durch Seile oder sonstige Hindernisse nicht gestört.
Aeroart ist flexibel und wird sowohl indoor als auch outdoor mit bis zu 6 Artisten durchgeführt.
DUBAI DIPC by HQ Creative and TEAM EXTREME