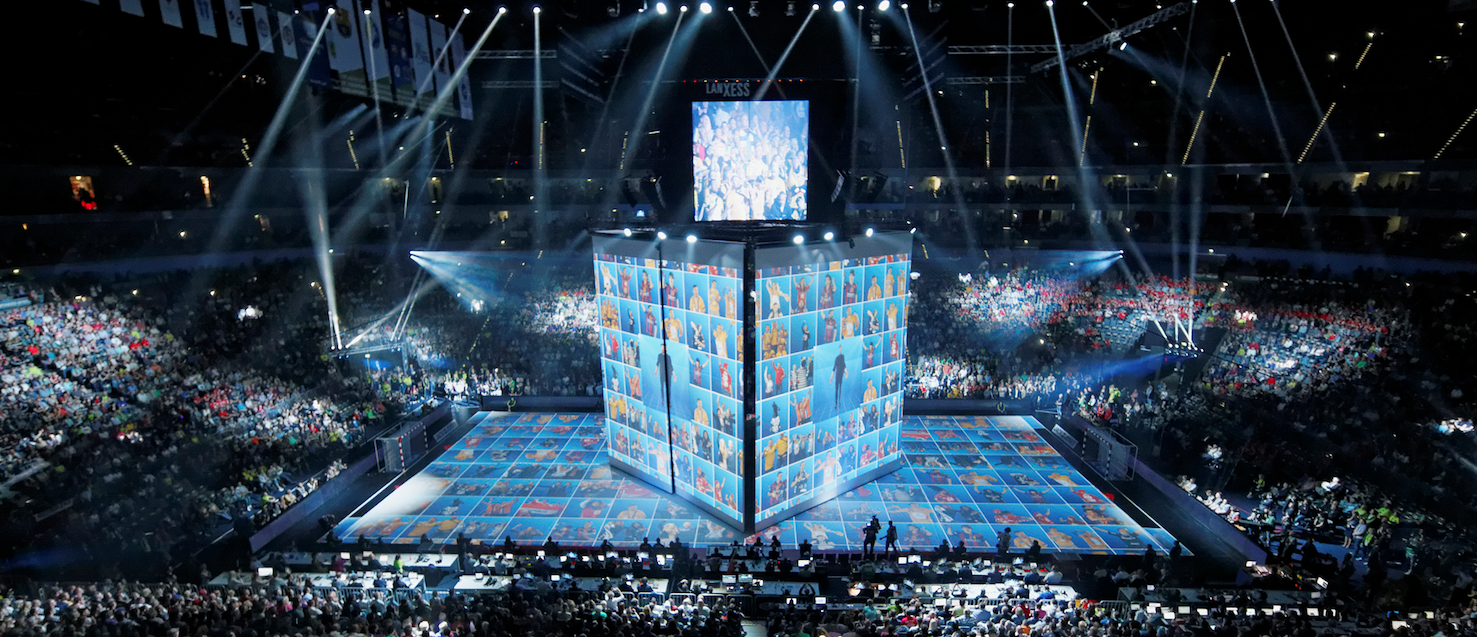 For the sixth year in a row, the VELUX EHF FINAL4 brought together the best handball teams in Europe and cast its spell over the handball fans for two days in a sold-out LANXESS arena.
World class handball and spectacular opening shows before the matches drew 40,000 fans to the Cologne event location.
Fascinating video animations on gigantic roll screens and on the entire playing field turned the centre of the arena into a 360-degree mega stage.
Eight TEAM EXTREME acrobats staged a three-dimensional performance against a background of visually stunning projections. Time code-controlled high-speed winches and more than one thousand metres of steel rope guaranteed perfect synchronisation of videos and acrobatics.
With her song 'In the Air Tonight' by Phil Collins, the singer Kim Sanders hit the nail on the head. She and other top acts aroused great emotions.
The creation, conception, artistic realisation and presentation suite were implemented most perfectly by Elements Entertainment GmbH in cooperation with the director Hans-Christoph Mücke.
TEAM EXTREME mit artistischem Highlight zum Handball Champions League Finale !!
Das VELUX EHF FINAL4, die sechste Auflage des Treffens der besten Handball Teams Europas, riss auch in diesem Jahr wieder für zwei Tage die Handball Fans in ihren Bann, in einer ausverkauften LANXESS Arena.
Weltklasse Handballsport und spektakuläre Eröffnungsshows vor den Spielen zogen 40 000 Fans in die Kölner Event Location.
Faszinierende Video-Animationen auf gigantischen Roll-Leinwänden sowie dem gesamten Spielfeld verwandelten das Zentrum der Arena in eine Mega-360 Grad Bühne.
Acht Artisten von TEAM EXTREME performten dreidimensional vor bildgewaltigen Projektionen. Time Code gesteuerte Hochgeschwindigkeits- Seilwinden und über tausend Meter Stahlseil gewährleisteten eine perfekte Synchronisation von Video mit Artistik.
Die Sängerin Kim Sanders traf mit Ihrem Lied "In the Air Tonight" von Phil Collins genau auf den Punkt und löste neben weiteren Top Acts große Emotionen aus.
Die Kreation, Konzeption, künstlerische Umsetzung, sowie die Ablaufregie setzten die Elements Entertainment GmbH, in Zusammenarbeit mit dem Regisseur Hans-Christoph Mücke perfekt um.
Fragen Sie uns für Ihren nächsten Event nach individuellen Showkonzepten.